centrifugal separators ( cyclones)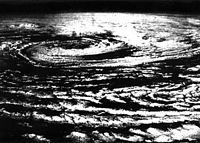 for instance :as droplet separator and / or for preseparation
also made with additional device for agglomeration



dosing device :
bag evacuate station with dosing device :
BIG BAG evacute station with dosing device
with or without lifting device for BIG BAG
( handling incase of no liting device with forklift or other lifting gear)

spraying devices
for fluegas quenching, for DENOx, for bring in of liquid additives,...
quenches: for special conditions ( high temperature, pollutants,...)

HSR fabric filter
The H(igh)S(orption)R(ate) fabric filter is high performance chemical reactor for fluegas cleaning
separation efficiency up to 99,99% (depends on pollutant)
DENOx up to 50% ( with 2 additonal dosing-systems)
informations HSR (German)
manufacturing of special parts
- adapterconnectors for flaps
- static mixtures
- special filters
- parts for test plants
- ................
inline filters with a softwarebased filtercontroller, nearly like a chamber filter ; retrofitable !!
INTERESTED ?? Please contact us !
plant add-ons, reconstructions, etc,.. of exixting plants